A National Center for Education (NCES) report says during the fall of 2012, around 48.2% of students were enrolled in Title IV academic institutions in the State of Arizona. Of the students enrolled in exclusively online programs, 0.7% attended private nonprofit four-year online universities and colleges. About 4.4% of them enrolled in public four-year online schools. Around 85.15% of the online students attended private for-profit four-year universities and colleges.
In 2013, at least one out of eight students in post-secondary academic institutions from all over the country were enrolled in purely online courses, and one in four college students taking at least one online course. The number of students enrolled has grown in Tempe, Arizona, since Arizona State University (ASU) has also experienced a 34% spike in their online course enrollment. Because of Arizona's long history and familiarity in terms of online education, the growth of enrolled students has been constant over the years.
Arizona is home to many excellent online universities and colleges that cater to the student's need for cost-efficient options and flexible academic schedules. The rising popularity of online education has eliminated the doubts that come with being a distance learner. Numerous online schools offer high-quality instruction and award the same degrees offered by traditional colleges.
METHODOLOGY
Distance learning has been considered as one of the most popular ways of acquiring higher education, and Arizona appears to be one of the leading states in this aspect. Because of Arizona's strong focus on high-quality online education, 360,835 students have enrolled in online programs of various Arizona colleges and universities in 2013, wherein most of these students reside out of state. Due to this, more academic institutions in Arizona have started offering online degree programs as well.
In developing our list of the 5 Top Online Schools in Arizona, OnlineSchoolsCenter.com took into account these factors:
Institutional excellence as demonstrated by considerable endowment size, healthy student-to-faculty ratio, and high student retention rates,
High-quality online education that ensures rigorous coursework and robust curricula, so that distance learners acquire the same level of education that on-campus learners obtained,
Student satisfaction that students express through positive reviews and ratings of their online academic experiences.
Learn about our ranking process. Visit our Methodology Page.
Arizona State University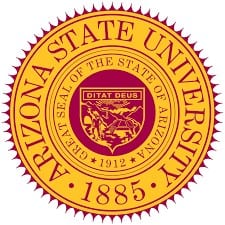 Arizona State University has four campuses making up the Arizona State University (ASU) system. Its main campus, initially built in 1885, is located in Tempe, Arizona. ASU Tempe is further subdivided into ten schools and colleges, and it is also composed of a population of about 50,000 enrolled online students. The ASU Tempe campus offers various degree programs and professional certification programs, which cover a wide range of fields of study like the History, Software Engineering, Nursing, Psychology, Liberal Arts, Criminal Justice, and Speech, among other 140 online programs.
Some of the university's online courses include urban planning, public service, and public policy, and integrative health. The university provides a competitive learning experience for online students through the integration of biometric identification technology with online proctoring for tests. Programs are entirely accessible with closed captioning for students having hearing problems along with specialized software applications for those who have vision problems. Students can access video lectures with complete transcripts to aid their distance learning process.
Highly-competent professors and instructors, who are also Fulbright scholars, Pulitzer Prize Winners, and Nobel laureates, teach online courses in the same manner as to how these were shown on campus. Personalized support is also provided to online students through academic advisers, distance students, success coaches, and enrollment counselors who can interact through the university's online organizations.
ASU holds a freshman retention rate of 84% and a graduation rate of 62%. Schedule of online classes is six times annually and delivered in 7.5-week sessions. ASU also holds a partnership with Google to provide students with Google Apps for their own educational needs. Google Drive is used in collaboration with faculty and peers in terms of their projects and other academic requirements.
ASU has also been duly recognized through its numerous awards given to students for the past years. This is one of the reasons why ASU deserves a spot among one of the best online schools in Arizona.
Location: Tempe, Arizona
Admission Requirements:
GPA: 3.0 or higher
Standardized tests: SAT or ACT
Accreditation: Higher Learning Commission
University of Arizona
The University of Arizona (U of A) is a public research university that was built in 1885 and was the first chartered university in the state. The U of A has also been elected as one of the members of the Association of American Universities, considered to be a not-for-profit and international organization composed of 62 academic institutions offering high-quality programs.
The university has two medical schools both in Tucson and in Phoenix, and it also holds two academic medical centers in the state. It is also affiliated with the Banner Children's Hospital and Diamond Children's Medical Center. The university has a population of about 43,000 enrolled students in various bachelor's and master's degree programs, as well as professional certification programs. A few of its top online degree programs include Health Sciences, Learning Sciences, Interdisciplinary Studies, and Psychology.
The U of A holds a freshman retention rate of 82% and a graduation rate of 60.3%. Students with technical careers may select courses in STEM fields like meteorology, network operations, geographic information systems technology, and cyber operations. There are numerous alternatives for searching a liberal arts degree, and these include undergraduate degrees in sustainable built environments, public health, economy and industry, and African Studies. To complete the general education requirements of online students, they can choose from a wide range of competent courses offered through the academic institution's Science Academy and General Education Academy.
The U of A utilizes the D2L learning management system and high-quality lectures, accessibility to online resources, and technology support for online students. One of the aspects that U of A is proud of is the full engagement of their undergraduate students. This integrates student activities like service learning projects, research experiences, and internships with upper-level coursework. This particular connection allows students to gain an Engaged Learning Experience Notation on their respective transcripts. U of A is also unique for its Bachelor of Science degree programs established on sustainable environments and focusing on sustainable buildings, and this makes the university one of the leading academic institutions in terms of sustainability studies.
Diversity is a crucial feature of the U of A due to its diverse online resources, blog posts, student clubs, support services, and academic programs, guaranteeing student enhancement so that they become highly competent graduates in various fields of study.
Location: Tucson, Arizona
Admission Requirements:
GPA: 3.0 or higher
Standardized tests: SAT or ACT (recommended but not required)
Accreditation: Higher Learning Commission
Embry-Riddle Aeronautical University
Embry-Riddle Aeronautical University is considered to be a non-profit, private university which was given the nickname, Harvard of the Sky because of it being the worlds fully accredited and largest academic institution specializing in highly competitive aerospace and aviation education programs. Talton Higbee Embry and John Paul Riddle, who were both aviation enthusiasts, established the Embry-Riddle Aeronautical University (ERAU) in 1926. Its main campus is located in Daytona Beach, Florida, but an extension campus also exists in Prescott, Arizona. The only master's degree program in safety science can be found on the Prescott campus.
The Aviation Accreditation Board International has accredited ERAU's Aerospace and Occupational Safety, Flight Operations and Airport Management, Aeronautical Science, Air Traffic Management, Aviation Maintenance, and Applied Meteorology degree programs. Its business programs are recognized by the Association of Collegiate Business Schools and Programs (ACBSP). The school's engineering programs, on the other hand, are certified by the Accreditation Board for Engineering and Technology, Inc. Its Aerospace Studies, Aerospace Engineering, Air Traffic Management, Applied Meteorology, and Aeronautics are accredited by the Federal Aviation Administration (FAA).
The university's freshman retention and graduation rates are 77% and 56%, respectively. Roughly 2,200 undergraduate students pursue over 16 online majors, including Systems Applications, Safety Management, Homeland Security, and Aviation Business Administration. Graduate students, on the other hand, pursue similar options as that of online master's degrees in aviation and aerospace sustainability, systems engineering, and cybersecurity management and policy.
Student-to-faculty ratio is generally 17:1. There are about 120 student organizations, and the university participates in NAIA Athletics. There are 12 various undergraduate start times every academic year, and every session lasts for nine to 12 weeks.
Professors and administrators collaborate with students to design a personalized degree map to guarantee that all students graduate within four years, regardless of family obligations or their location. The university also has an aviation-focused Massive Open Online Course (MOOC) that presents an introduction to online learning for potential students.
Location: Prescott, Arizona
Admission Requirements:
GPA: 2.5 or higher
Standardized tests: SAT or ACT recommended but not required
Accreditation: Southern Association of Colleges and Schools (SACS)
Northern Arizona University
Northern Arizona University (NAU) is considered to be a public research university, which operates more than 30 satellite locations in the whole state. It was built in 1899 as the Northern Arizona Normal School. Today, NAU is composed of seven schools and colleges which include the College of Arts and Letters, the College of Health and Human Services, the College of Social and Behavioral Sciences, the College of Education, College of Engineering, the Forestry and Natural Sciences, and the W.A. Franke College of Business and the Graduate College. These departments present to NAU's 30,000 students the extensive range of undergraduate programs, graduate programs, and professional certificate programs that the university offers. NAU is also the first public university to provide a competency-based online program.
The university's freshman retention rate is 74%, and its graduation rate is 51.6%. As previously mentioned, NAU has two pathways of learning for online students, namely, the traditional online and competency-based programs. Traditional online programs are almost similar to brick-and-mortar bachelor's degree programs with regards to the course and credit requirements. Traditional online bachelor's degree alternatives include the university's ten fields related to health professions, parks and recreation management, and hotel and restaurant management. The university also has an online doctorate program in nursing practice.
Competency-based programs enable students to obtain credits for numerous life experiences like related activities or hobbies and previous work experiences. Competency-based programs place greater emphasis on individualized learning. Students are required to complete their coursework in an asynchronous format, and this enables them to finish their respective degrees as well ahead of their schedule. Competency-based bachelor's degree programs offered in NAU include small business administration degree programs, nursing, management, liberal arts, computer information technology, along with two online master's degree programs and five undergraduate minors.
NAU classes are delivered through the Blackboard Learn online platform, wherein students may access library resources and 24/7 technical support. Through this platform, students can complete an online bachelor's degree program in 45 diverse fields of study. About 30% of the online classes also have a student-to-faculty ratio of 18:1. Many of NAU's online degree programs, like business administration, have a wide range of focus for students who want to sharpen skills in the areas of marketing, global business, supply chain management, and entrepreneurship. The university also provides students a customized education self-paced plan for ease of learning.
Location: Flagstaff, Arizona
Admission Requirements:
GPA: 3.0 or higher
Standardized tests: SAT or ACT
Accreditation: Higher Learning Commission
Ottawa University
The Ottawa University-Phoenix campus was founded in 1865 based on a genuine commitment to exhibiting a Christian community of peace and grace. It was regarded as one of the best online universities in Arizona because of its academic rigor and core values. The main goal of the university is to promote adult education. Today, the university caters to more than 50,000 students both enrolled online and on-campus.
Some of the university's notable programs include studies in Christian ministries, management of information systems, data science and technology, and addiction counseling. Most of the university's programs are classified into three categories, such as arts and sciences, education, and business. Other online undergraduate degree programs include human and social services, nursing, and mathematics. Graduate-level online programs include a master's in human resources degree program and a dual MBA. The U of A online programs were created with the notion that it is essential to give balanced and flexible programs that are convenient for working professionals and those with family obligations. Online programs are delivered through Blackboard and classes typically last for eight weeks. Bridge programs are also offered to acquire a bachelor's or master's degree in the same fields in an accelerated period.
For admission, applicants are required to submit previous transcripts, and graduate students need to submit at least three letters of recommendation. The university's generous transfer policy enables students to apply up to 80 previously earned credits in their respective undergraduate degrees.
Moreover, the university strives to guarantee low tuition rates and plentiful financial aid opportunities. All online students, both out-of-state and in-state, pay low flat-rate tuition rates per credit hour. There are discounted tuition rates for veteran and military personnel for students pursuing a bachelor's degree in RN-to-BSN and addiction counseling degree programs.
Location: Phoenix, Arizona
Admission Requirement:
Standardized tests: SAT or ACT
Official documents
Accreditation: Higher Learning Commission
***
Because of the Western Interstate Commission for Higher Education (WICHE), Arizona has recently been involved in various initiatives to promote distance learning to students. As a result, several online academic institutions in Arizona have become widely available. Arizona is one of the participants of the State Authorization Reciprocity Agreement (SARA) that aims to enhance college students' access to online education, including programs offered across state lines. The state is also one of the participants of the WICHE Cooperative for Educational Technologies (WCET), which promotes the incorporation of technology into higher education.
Despite Arizona's commitment to distance learning resources, tuition rates have gone up by 8.3% from 2010 to 2015 specifically in four-year public, academic institutions in the state. Arizona's appropriation budget for higher education has decreased dramatically, and this has contributed to the issue of increased rates of post-secondary schools. Based on a report from the Center on Budget and Policy Priorities, Arizona has higher tuition and lower state funding compared to other states since the 2008 recession.
This increase in tuition rates has been perceived as a warning for students who are investing in higher education. Nevertheless, those who have committed to distance learning programs through Arizona's universities and colleges can provide a robust framework for the completion of their degree programs because of the state's active incorporation of online resources and tools into higher education. Arizona continues to show commitment to making online education more technologically innovative and accessible, and this allows students to perceive that distance learning is worthy of one's investment.
METHODOLOGY
Our 5 Best Value Online Schools in Arizona offer a variety of online degrees and program concentrations of very low tuition rates. The online schools also present various opportunities for online students to gain financial aid. Owing to their high-quality online education, these best value online schools provide a high net return of investment (ROI).
University of Arizona
The University of Arizona (U of A) in Tucson, Arizona has a relatively low net price and a high graduation rate, and it also has a 20-year net ROI of $388,000, which is considered one of the highest in Arizona. The online programs of the university enable students to interact with their peers using discussion boards for at least three to five times weekly. Before application, all students need to verify that the programs of the university are accessible in their state and also check the transfer credit policy to know which courses can be transferred. Tuition cost differs for every program. Aside from this, the active-duty military personnel usually pay a flat tuition rate per credit. Due to its various scholarship and financial aid options, the U of A is also considered as one of the top affordable academic institutions in the state.
Location: Tucson, Arizona
Admission Requirements:
GPA: 3.0 or higher
Standardized tests: SAT or ACT (recommended but not required)
Accreditation: Higher Learning Commission
Arizona Christian University
Arizona Christian University (ACU), which was founded in 1960, is one of the top-rated academic institutions in Arizona. It has an acceptance rate of 57%, making it one of the most highly competent academic institutions in Arizona. Despite its Baptist roots, ACU officially became a non-denominational university in 2009. Since then, the university has expanded with its new programs and strategies to help students improve their knowledge and skills. ACU has three types of learning media, namely, an evening campus focusing on degree completion for working adults, an online learning system, and a 35-acre campus where traditional classes are conducted. The online program of the university was offered in 2017.
The university also features a 13:1 student-to-faculty ratio and a small enrollment number, which distinguishes ACU from traditional universities such as U of A and ASU. All students should graduate after taking a minor in Biblical Studies. Student events in the university also involve religion, ranging from mission trips outside the country to on-campus worship bands.
In terms of its online curriculum, the program enables students to begin anytime within the year. Classes are conducted online six times a year in eight-week terms. Some notable online undergraduate programs include Christian Ministries, Family Studies, Elementary or Secondary Education, and Business.
Location: Phoenix, Arizona
Admission Requirements:
GPA: minimum of 2.0
Standardized tests: SAT or ACT
Accreditation: Higher Learning Commission
Arizona State University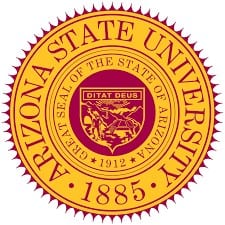 Aside from being one of the largest academic institutions in the United States, Arizona State University (ASU) in Tempe, Arizona has one of the largest online education departments. Most of the courses are asynchronous in format while some programs need an on-campus component for online students to be able to interact personally with their instructors, professors, and peers. All ASU students are entitled to pay the in-state tuition, and this is the reason why ASU is also considered as one of the least expensive online academic institutions in the state. Scholarships and all sorts of financial aid are available for all students even for transfer students who have acquired above 24 college credits and those who have a minimum GPA of 2.5.
Location: Tempe, Arizona
Admission Requirements:
GPA: 3.0 or higher
Standardized tests: SAT or ACT
Accreditation: Higher Learning Commission
Embry Riddle Aeronautical University
The Embry Riddle Aeronautical University in Prescott, Arizona offers practical training in its various degree programs such as Unmanned Aircraft Systems, Space Physics, Applied Meteorology, and Aerospace Engineering. The university's flight lane may hold a total of 30 airplanes and ten helicopters, as on-campus simulators prepare its students for the first trip off the runway. The university's online programs are also ideal for any lifestyle, allowing students to select between asynchronous and synchronous programs. Embry-Riddle does not have various admission requirements except for a perfect minimum GPA of 2.5 and transcripts.
Admission is highly competitive in Embry-Riddle since the school accepts transfer credits based on specific cases. Embry-Riddle also permits all online students to pay in-state tuition. Tuition is at a flat rate for active-duty personnel and military veterans while civilians pay higher flat-rate tuition compared to military personnel.
Location: Prescott, Arizona
Admission Requirements:
GPA: 2.5 or higher
Standardized tests: SAT or ACT recommended but not required
Accreditation: Southern Association of Colleges and Schools (SACS)
Northern Arizona University
Northern Arizona University (NAU) in Flagstaff, Arizona has an ideal tuition rate for budget-conscious students and multiple campuses in the whole state. NAU is also devoted to research as students are more interested in sustainable solutions, climate change, and healthcare. This is the reason why numerous scholarship and financial aid opportunities are also open to NAU online students. NAU has also been known for its successful graduates and its 20-year net ROI of nearly $225,000. The per-credit-hour tuition of NAU is necessarily lesser compared to other degree programs in Arizona. Tuition rates are different based on the online pathway. As for competency-based online students, the school has established tuition packages into six-month subscriptions given unlimited coursework.
Location: Flagstaff, Arizona
Admission Requirements:
GPA: 3.0 or higher
Standardized Tests: SAT or ACT
Accreditation: Higher Learning Commission