Are you a gifted student and a future college applicant? If yes, then you are probably considering all of the options available to you in high school if you don't find your standard core classes enough of a challenge. Maybe it is time to think about enrolling in CP (college prep) or honors classes! Here you will find much more in-depth coursework and projects, more complex reading and writing assignments, and you will develop more impressive transcripts for your college applications.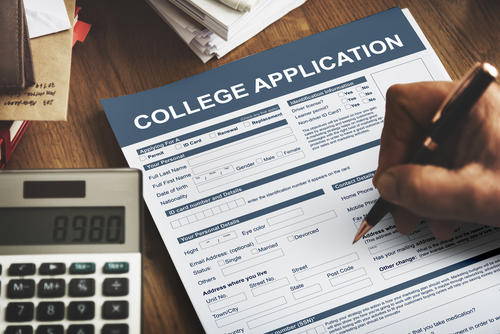 But, first of all, what does CP stand for in high school? And, what is the difference between college prep and honors classes, anyway? There are actually some important distinctions that are generally held standard throughout most public high schools and some private schools. OnlineSchoolsCenter.com is here to help you understand these differences, which have been broken down below in an easy to read format.
So, what does CP mean in high school and what is a CP class?
This term can be very confusing because it actually has multiple meanings! It is important to understand the differences as they apply to individual schools, but the following describes what CP can mean in all of its capacities:
At some high schools, CP courses, or college prep courses, are classes that prepare you for your future educational career as a college student. These can be CP classes that teach you to manage your college applications, financial aid and loans, what you can expect out of a college education, and more. These types of CP classes in high school are typically instructed by college advisors who then help you identify, choose, and apply to your favorite colleges and universities. Your college advisor will show you what looks good on an application and what you can do to make yourself stand out.
At other schools, a CP class can mean courses that provide a tougher workload and courses that demand more of you as a student. In this case, a CP class is different from an AP class, which stands for Advanced Placement. AP classes are courses you can take to earn college credit and are, therefore, instructed at a college level and can be quite difficult. Not all schools offer AP courses. CP classes are different because they do not offer college credit and are not managed by the College Board.
Sometimes college prep can refer to a type of school entirely, which can be either public or private. College preparatory schools have a more strict and demanding curriculum that prepares students for the rigors of a bachelor's degree. These schools have more challenging coursework and course topics, as well as more reading and writing assignments and a broader selection of classes. The curriculum at a college prep school still follows the standard national requirements in math, science, history, and English, but delivers such courses at a higher level of instruction.
What does college prep mean? Let's make it easy!
A CP class can be a course that prepares you for applying to college, managing financial aid, engaging in college advising (both academic and professional), etc.
A CP class can be a more challenging course compared to those in your standard high school curriculum but, one that is still math, science, history, or English-based and does not offer college credit.
A CP school, or college prep school, can be a high school in which the entire array of coursework prepares you for a college-level curriculum. At a college prep school, the classes are more difficult and involve more coursework, projects, and assignments.
When in doubt, always ask your principal, headmaster, or admissions department at your school what CP classes are, and whether or not you qualify to take them.
College Prep Classes vs Honors
Lastly, let's discuss the difference between college prep and honors classes. If your high school offers both college prep and honors classes, then the CP courses are most likely intended to help you with point 1 listed above. The honors classes will offer more challenging content and look good on a college application (but honors courses do not count for college credit, either). If you don't find any honors classes at your school, but you do find CP courses, then they correlate with point 2.
So! The difference between honors and college prep classes depends entirely on your school and the structure of the curriculum. Sometimes the difference is stark, whereas other times honors and cp courses are the same thing but offered at different schools.