Computer Science (CS) is among the most popular Science, Technology, Engineering, and Mathematics (STEM) undergraduate majors in the United States. Aside from its complex yet interesting scope, computer science is popular because of its promise of job security, high salaries, and diverse job opportunities. CS degree holders are needed in every trade, business organizations across every industry. In the year 2016 alone, 35,329 computer science degrees were awarded to college students with a growth of 24.4%.
As a field of study, Computer Science focuses on computers and computational systems, including both hardware and software. It is a diverse field which includes artificial intelligence, software engineering, bioinformatics, programming languages, and numerical analysis. Students majoring in Computer Science must complete extensive and rigorous coursework. They undergo rigorous academic and practical training in theory, design, development, and application of computer systems making them valuable members of every workforce. Data USA reports that there are 1.85 Million Computer Science professionals in the country receiving an average annual salary of $92,592.
Computer Scientists are trained to be decisive and effect innovation in their practice. Having a strong background in the field is the first step towards your career development.
Computer Science as a Degree
Types of Computer Science Degrees
Computer Science Specializations
Financing Your Computer Science Education
Online vs. Brick and Mortar Computer Science Degrees
Computer Science Career Pathways, Information, and Outlook
Computer Science Schools, Degrees, and Rankings

Computer Science as a Degree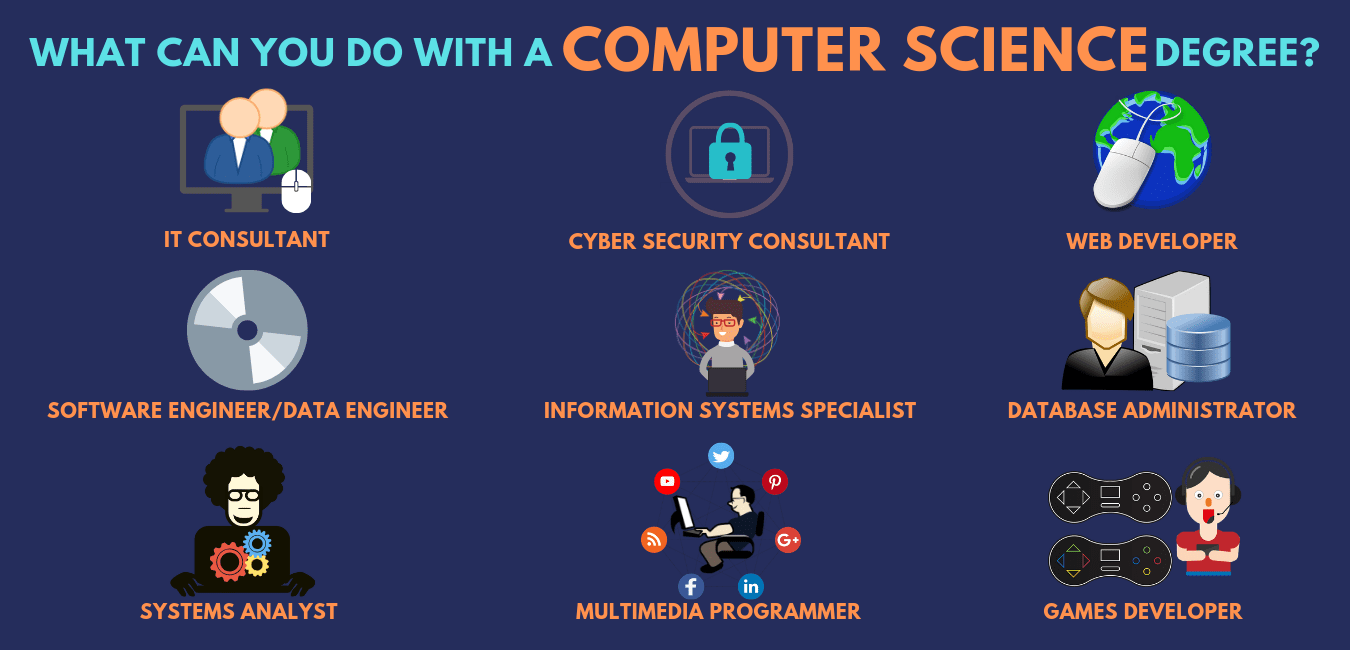 Technology is continuously evolving, becoming more complex as new developments are introduced to every aspect of communication, medicine, research, and transportation. Computer Science is an ideal course, a gateway course, to a wide range of career opportunities and academic advancement. According to the Bureau of Labor Statistics (BLS), there were a total of 367,600 jobs for Computer and Information Sciences and Support Services professionals. This data is projected to increase by 12% by the year 2026.
Computer Science is a foundational science, allowing degree majors to acquire both specialized and general education courses after completing a four-year course. The program follows holistic coursework, integrating liberal arts subjects in a highly complex academic load. A standard computer science coursework includes Computer Architecture and Engineering, Feedback Control Systems, Analog Integrated Circuits, Software Engineering, Computation Structures, Introduction to Algorithms, Fundamentals of Programming, and Elements of Software Construction. This area-specific courses will equip computer science graduates the proficiency and expertise in analyzing an organization's computer systems and ensure network security and standard compliance.

Types of Computer Science Degrees
Associate Degree in Computer Science (ACS)
Earning an Associate Degree in Computer Science is often considered as the first educational step towards gaining entry-level employment in the field. Associate degree holders often find jobs in computers and technology industry having learned the fundamental concepts in computer science. The two-year credential provides students with the background knowledge, applicable skills, and training required of a computer science professional. Requirements for the program vary from school to school. Typically, an ACS required students to comply with a total of 64-semester hours.
Students can no earn an Associate in Computer Science online degree. Both on-campus and online academic instructions highlight major-area requirements. These core classes include calculus, database management, data structures, network security, programming, and networking. Following the standard curriculum allows students to develop a solid foundation to succeed in the workforce. More so, ACS graduates can easily transition to a bachelor's or even to a graduate degree.
Bachelor of Science in Computer Science (BSCS)
The Bachelor of Science in Computer Science (BSCS) degree program is centered on key concepts and techniques to design and develop computer systems. BSCS majors explore the complex theoretical and practical underpinnings of Computer Science. Among the focus of BSCS are the fundamentals of algorithms, operating systems, software engineering techniques, and programming languages. Computer Science graduates are holistically prepared to innovate cutting edge technologies and methodologies in the field.
Generally, BSCS requires 120 credit hours plus additional requirements. Every curriculum, be it traditional or online, computer science coursework includes a rich set of electives, such as computer graphics, artificial intelligence, computer architecture, and computer networks. Theses electives often lead students to their desired specialization. Before enrolling in the program, you must check whether the college or university offering computer science courses are accredited by the Accreditation Board for Engineering and Technology (ABET) or other regional or institutional accrediting agencies.
Master's of Computer Science
A graduate degree is always a wise investment, especially in a highly technical field like computer science. The Master's of Computer Science (MsSC) degree will open new career opportunities and landing more lucrative positions. MsSC coursework typically highlights areas such as computer language theory, computer architecture, and systems engineering. The master's degree program equips Computer Science professionals with advanced tools and foresight to secure success in the competitive field.
Most Master's of Computer Science programs are designed as terminal degrees, catering to those planning to pursue a Ph.D. in the field. This academic track follows a more research-based and theoretical nature of the subject. On the other hand, many academic institutions offer a more practical and hands-on approach. Many programs allow graduate candidates to pick their academic track. Upon graduating, MsSC degree holders are prepared to engage and resolve complex issues that affect organizations across all industries. Full-time students can complete the master's degree in as little as two years. Candidates for graduation must complete a master's thesis in a topic of their choice and culminate with a thesis defense.

Ph.D. in Computer Science
Considering a Ph.D. in Computer Science involves significant factors. Earning a doctorate will highly depend on prior knowledge of intricacies of the field. You must have a solid grounding of both the primary and advanced courses in computer science. Lastly, you must have secured actual experiences in the practical application of both your knowledge and education. Ph.D. in Computer Science is straightforward – it follows coursework that is heavily focused on research, and requires a final dissertation.
A fundamental requirement in entering a Ph.D. program is at a bachelor's degree, in CS or a related field. Also, a master's degree is always preferred. Earning a doctorate in computer science is an opportunity to highlight your expertise in a specific area. You will gain in-depth knowledge, skills, and practical experience in an area of specialization, including Forensic Science, Biochemistry, and Nanotechnology. Students who pursue a Ph.D. in Computer Science typically finish the degree in four to five years or after completing the requisite number of credits and depending on their academic load and class format. The program requires the completion of 72-90 credit hours.

Computer Science Specializations
Computer Science is an all-encompassing term that covers several fields and sub-fields. Professionals who specialize in the area are welcomed to diverse industries, making them flexible and highly-adaptive. CS degree holders can work in data analytics, computer and software engineering, information security, network administration, and systems management. The academic programs under computer science umbrella offer diverse choices for specialization. Remember to choose what interests you.
Computer Graphics
An exciting concentration, Computer Graphics provides students with the knowledge and training to create still and motion pictures. They can create two or three-dimensional imaging by highlighting available technologies and tools. Computer graphics designers are skilled in visual and geometric manipulation. They integrate computational techniques learned through mathematical and computational foundations. Professionals in the area do not only focus on aesthetics but emphasize image generation and processing. A solid background in Physics, materials science, light manipulation, data storage, and analysis, as well as data interpretation, allow computer graphics professionals to perfect their craft. With increasing demands in the gaming industry, a Computer Graphics concentration is a wise choice.
Computer and Network Security
In today's highly digitized industries, Computer and Network Security are at the center of necessity. This Computer Science field evolves ensuring seamless service delivery to consumers while keeping employee satisfaction. Experts in Computer and Network Security gained advanced knowledge in database management, operating systems, encryption strategies, and cryptography. Network security puts a premium on protecting sensitive proprietary information from any breach of attack, which ultimately protects the business. An entry-level position as a Security Analyst can earn a yearly salary of $64,600 while an advanced career promises an annual salary of $94,800.
Mobile and Web Computing
Degree programs in the Mobile and Web Computing concentration focus on theory-based applications of various networking protocols. The subject is also touched on the different aspects of systems design and allows students to conceptualize new strategies for development in the field. Mobile and Web Computing curriculum integrates foundational computer science courses into the state-of-the-art knowledge in the field of web and mobile technologies. Students will be able to create websites or mobile applications that will cater to any business model in every industry.
Human-Computer Interaction
Human-Computer Interaction is a growing field in computer science. This concentration is highly specialized and is designed to equip computer science professionals with the expertise to great the next generation computer systems. The coursework in Human-Computer Interaction concentration centers on design thinking and user research and studies. Also, subjects in behavioral sciences, planning, design and programming languages are included in the curriculum.
Software Engineering
A popular Computer Science concentration, Software Engineering emphasizes the study and development of programming languages. Curricula in Software Engineering puts primacy on collaborative learning and discipline, training students to excel in interpersonal communication. This is the foundation of functional and credible software security. Students taking software engineering take courses on database management, programming language, computer systems, and compilers. According to BLS, Software Developers received an average annual salary of $105,590 in 2018.
Bioinformatics
Bioinformatics is a unique specialization in the field of Computer Science. It integrates the theoretical framework of CS into the biological sciences, preparing students for a rewarding career in biological data interpretation. Bioinformatics curriculum includes foundation courses in both computer science and biology. Students learn the application of technology to medical and genetic context
Information Management and Data Analytics
Students who choose to concentrate on Information Management and Data Analytics learn proven strategies in storing, organizing and analyzing large-scale data. Topics in the area include algorithms for data mining, data management, database architecture, and networking.
Artificial Intelligence
Artificial Intelligence (AI) is a controversial topic and one of today's most evaded discourse. As a field of study, AI incorporates broad topics such as robotics, probability and modeling, logical reason, machine learning, and language processing. Many computer science professionals venture into Artificial Intelligence as they are nearing to perfect algorithms for human-like intelligence. Students and experts in the field of AI aim to design and create a viable substitute to perform the most menial to the most complex human tasks. As a degree concentration, it adopts a cross-disciplinary curriculum which includes applied mathematics, symbolic language, semiotics, electrical engineering, social intelligence, philosophy, and neurophysiology.

Financing Your Computer Science Education
STEM-related courses are becoming more relevant, convincing many undergraduate students to major in the field. Among the top choice is Computer Science. Many prospective college and graduate students choose to major in CS because of the rewarding and exciting nature of the field. Scholarships for CS students are widely available. Internet giants like Google, Microsoft, and even the NSA are providing scholarships and academic grants for deserving individuals. Just do the necessary research and comply with the requirements. Below is a list of scholarship grants targeted to computer science students.

Online vs. Brick and Mortar Computer Science Degrees
Online academic institutions continue to expand their already diverse online degree offerings. On top of the list is Bachelor's of Science in Computer Science (BS CS) online program. Traditionally, CS is a hands-on course, putting importance on in-person lectures and collaborative learning. However, both the online and the brick and mortar computer science degree adopts the same set of curriculum. Both highlight key courses in the field, development of core competencies among computer science majors. Graduates from both academic format secure high-paying and rewarding jobs after completing the degree.
The online Bachelor of Science in Computer Science degree requires the completion of 120 credit hours. Since technology has grown more advanced over the years, online learning has become more interactive. Online programs take advantage of the many online learning platforms, especially Blackboard. These technologies allow students to engage with their peers, professors, and other computer science professionals to expand their network. The level of sophistication in online discussions is now akin to having an in-person discussion. A survey revealed that 40% of students prefer taking classes online. Since CS majors are highly dependent on their computers, taking classes wherever, whenever is a sure advantage.
Most online schools encourage their students to build a profile where they can communicate with other students. Notably, American Sentinel University has set up a messaging platform where their students can exchange emails, notes, lectures, and other materials. Also, at the University of Michigan-Flint, Masters of Computer Science engage with their professors, and members of the different departments to develop software and programs for educational purposes. Opportunities in online education are endless. Find the perfect program for you and check whether or not it is accredited by ABET.
On the other hand, on-campus Bachelor of Science in Computer Science program is primarily designed to train students in an object-oriented curriculum. Most specialization is available in the traditional learning path. Students learn basic and advanced computer science concepts while taking on the most complicated concentration. Specialize in computing skills and backgrounds, and excel in the field of computer science. Standard 120-credit hour coursework is followed in a BS CS program. One key advantage in a brick and mortar CS program is the students' freedom to choose their electives

Computer Science Career Pathways, Information, and Outlook
Computer Science graduates are analytical, critical and innovative career professionals. They take calculated decisions in every aspect of their project may it be systems design, database management, software development, or cloud computing. Professionals in the field take technical positions in various organizations. They are sought-after by employers across all industries, creating a tight competition in the employment marketplace. Taking into consideration the fast-paced nature of the field, it is essential that computer science professionals foster creativity and innovation. Since graduates of the course can apply their academic and experiential knowledge can be used in every possible area of commerce, career opportunities are countless.
In whatever professional path you take, having a degree in CS is your gateway to many opportunities. The right job for you will depend on your education background and your work experiences, as well as your skills and interests. Here are some of the top career choice for Computer Science graduates.
Software Developer
Database Administrator
Computer Systems Analyst
Web Developer
Computer Network Architect
Information Security Analyst
Computer and Information Research Scientists
Computer and Information Systems Managers
IT Project Manager
Information Security Analysts
Computer Support Specialists
The available data is promising for computer science professionals. Employment growth is projected to grow by 4.33% annually and with an average wage of $948, more and more students major in the program. In the most common occupations, the average yearly salary is estimated at $92,592. These includes are software developers, applications & systems software, computer programmers, and other computer occupations. It is worth noting that software developers account for 20% of the entire workforce.

Computer Science Schools, Degrees, and Rankings
20 Most Affordable Online Schools for Bachelor's in Computer Science
4 Best Online Schools for Doctor in Computer Science Degree Programs
Top 15 Online Master's in Computer Science