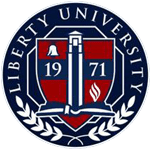 Liberty University is one of the LEADING online universities in the world… click this GET MORE INFO link to receive specialized online program information straight from Liberty University.
HISTORY
Now considered the fifth largest college in the nation, Liberty University had humble beginnings, with just 154 students enrolled. First established as Lynchburg Baptist College in 1971 by Pastor Jerry Falwell Sr., the goal of the school is to offer a faith-based institution to students, putting Christ at the forefront of all teachings. The college's name shifted to Liberty Baptist College in 1975.  Over time, the university has gained attention for its degree offerings and developed their virtual learning option – called Liberty University Online – to give students more options in an ever-changing world. To date, over 95,000 students from over 80 countries take advantage of Liberty's online degree programs and certifications.
ACCREDITATIONS
Liberty University boasts a host of accreditations. The school has been accredited by the Southern Association of Colleges and Schools Commission on Colleges since 1980. Other accreditations of note include:
● The Commission on Accreditation of Athletic Training Education
● The Accreditation Council for Business Schools and Programs
● The Council for Accreditation of Counseling and Related Educational Programs
● The National Council of Accreditation of Teacher Education
● The Accreditation Board for Engineering and Technology
● The Commission for the Accreditation of Allied Health Education Programs
● The Commission on Collegiate Nursing Education
● The American Osteopathic Association Commission on Osteopathic College Accreditation
● The Council of the Section of the Legal Education and Admissions to the Bar of the American Bar Association
● The National Association of Schools of Music
● The Commission on Sports Management Education
Additionally, Liberty University is certified by the following entities:
● Association of Christian Schools International
● The National Collegiate Athletic Association
● The State Council of Higher Education for Virginia
● The Virginia Board of Nursing
ONLINE PROGRAMS
Through Liberty University Online, students can earn a wide range of degrees, including high school diploma, associate's and bachelor's degrees, as well as doctoral and post-graduate studies. Out of the 245 degrees available, a large majority of them can be earned completely online through the Blackboard platform. Other virtual tools available to students include Webmail, so students can read weekly announcements or email their teachers, as well as ASIST, a tool that lets students pay fees, view report cards, or check transfer credits online. Liberty University also lets virtual learners conveniently purchase all of their books and course materials online through MBS Direct.
The majority of online classes last a minimum of eight weeks, but can last up to 17 weeks, depending on the subject. Classwork is completed on the student's own timeline, taking the individual professor's deadlines into consideration.
Students who sign up for online degree programs must attend a one-week campus visit and then commencement once their studies are finished. Depending on the degree track, some students may need to occasionally come to campus to complete coursework through an intensive.
The online program complements their degree offerings with resources just for virtual students, including the Online Student Life Video Library, which contains devotionals, help guides, and ministry tools. They also have a Media Wall where students can interact with other students in real time and join in specially developed social media networks. Other resources include a webpage where students can submit prayer requests, find a counselor, connect with support groups, and a list of recommended reading on topics such as spiritual life, marriage, grieving, and depression.
PROFESSORS
There are over 2,500 full-time and part-time professors as part of Liberty University. The teacher student ratio for online students is 17:1. All online professors either have a Masters or Doctorate in their field of study, ensuring students get the most out of each class.
FINANCIAL AID AND SCHOLARSHIP
According to Liberty University's website, approximately 95 percent of their students receive some sort of financial aid. For students taking advantage of Liberty University's online course offers, there are multiple scholarship opportunities available exclusively to these students.
Current online scholarship offerings include:
● Canadian Student Initiative, offering a 13 percent discount to Canadian students.
● Emergency Response Personnel, giving law enforcement, park rangers, and other security personnel a 25 percent discount on college-related expenses.
● Heroes Fund Scholarship, developed for military personnel and veterans under the GI Bill.
● International Mission Board, which offers 100 percent paid tuition to students seeking a Masters of Arts in Religion.
● Liberty Advantage, which gives eligible applicants 15 percent off tuition.
● Southern Baptist Conservatives of Virginia, giving 100 percent tuition on an annual basis to current SBCA members.
● World of Life Employees, which rewards undergraduate and graduate students with 50 percent discount on tuition.
● West Virginia Convention of Southern Baptists, giving 100 percent tuition on an annual basis to current WVCSB members.
SCHOOL AWARDS AND RECOGNITIONS
Liberty University has been recognized by a variety of websites, including:
● One of the best online schools in the nation by CreateACareer.org
● One of the top 25 online programs by TheBestSchools.org
● One of the top 20 Christian online universities by TheBestSchools.org
● One of the best online colleges for the 2015 – 2016 school year by BestCollegeReviews.org
TUITION
(scale) $ = Affordable    $$$$$ = Expensive
Tuition Rates: $
Liberty University remains one of the most cost-effective choices for traditional and virtual students. Undergraduate tuition is $455 per hour for part-time students and $390 for full-time students. Students are considered part-time if they take 11 or less course hours. For those serving in the military, tuition rates are especially low, with undergraduate fees coming to $250 for both full-time and part-time students. Military personnel wanting to get a graduate degree only have to pay $275 per hour whether they are a part-time or full-time student, compared to regular graduate students paying $565 per hour for full-time and $615 per hour for part time study. Intensive fees are also low, costing just $25 per course.
CAREER ADVANCEMENT
Graduates of Liberty University Online have high satisfaction and employment rates once they finish school. According to a 2014 Liberty University survey, 99 percent of students had a favorable experience and 91 percent of graduates were able to find work in their field of study
after they received their degree. An overwhelming 72 percent of alumni were able to get a job in their field of study the first go round, while 73 percent of graduates continue to have a career related to their degree.
____________________
IN OUR RANKINGS
Liberty University is highlighted in the following rankings on our website: