Saint Leo University
Florida, USA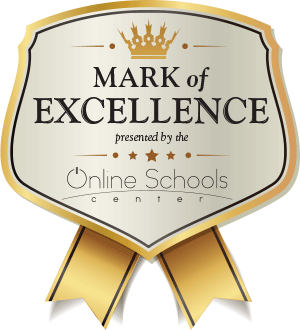 Congratulations, Saint Leo University, for receiving OnlineSchoolsCenter.com's "Mark of Excellence"! Chosen for their exceptional educational value and consistent positive reviews from their students, as well as, ranking in U.S. News and World Report's 2017 Best Colleges, Regional Universities South!
Saint Leo University's educational mission is founded upon six Core Values:
Excellence, Community, Respect, Personal Development, Responsible Stewardship and Integrity
To achieve its educational mission the Saint Leo "community creates a student-centered environment in which the love of learning is of prime importance. Members of the community are expected to examine and express their own values, listen respectfully to and respond to the opinions of others, serve the community in which they live, welcome others into their lives, and care for all of God's creations."
Click HERE to find out more about Saint Leo University's online degree programs.
School's History:
Saint Leo University was founded in 1889 and formally established in 1890 by a community of Benedictine Monks as the first Catholic college in Florida. The college was named after Pope Leo I (440-461) as well as Pope Leo XIII (1878-1903), who was pope at the time of the college's founding. Initially, the college served those in military service, while a partner school, the Holy Name Academy, served civilians.
In 1893, Saint Leo College awarded its first graduates with Masters of Accounts degrees. Then in 1897 Holy Name Academy graduated its first student, Bessie Bowen, the daughter of the local mayor. In addition to willingly educate women students, another early event in the history of Saint Leo demonstrates the university's forward and inclusive vision and mission. In 1898 Rudolph Antorcha enrolled in Saint Leo's Military College. Antorcha was a black student, who was accepted by the college at a time when it was illegal for black students to attend classes with white students.
In 1911, Holy Name Academy relocated to the Saint Leo campus and the two schools were fully merged. Interestingly, in 1920 the last college degrees were awarded and Saint Leo became a college prep high school, which remained in operation until 1959.
In 1959, Saint Leo once again became a junior college. Although baseball had been a part of Saint Leo's sports life since 1890, in 1964, Saint Leo University fielded a baseball team, which was also its first intercollegiate athletic team. Currently, Saint Leo competes at the NCAA Division II level with a wide variety of sports teams for men and women. Several Saint Leo alumni have gone on to play Major League Baseball. In 1965, Saint Leo became an independent four-year college and in 1967, Saint Leo began awarding bachelor's degrees again.
By 1979, Saint Leo's enrollment reached over 1,000 students, and the college's degree programs expanded. During the 1980s and 1990s Saint Leo academic programs saw much growth and diversification and student enrollment increased as well. Two additional learning centers opened in 1996 in Texas and Florida. In 1998, Saint Leo opened its online learning center, offering bachelor's degrees in Business Administration, Accounting and Computer Systems Information and in 2000 awarded its first online bachelor's degree. In 2002, an online MA in Business Administration was added to Saint Leo's online program.
Since 2002, Saint Leo University has expanded its online program to include over two dozen degree and certificate programs, ranging from the Bachelor's level to the Doctorate. In under 20 years of online education Saint Leo has been established as one of the top online educational institutions in the world.
Among the many thousands of Saint Leo Alumni some of the most notable are: Anastasio Somoza Debayle and his brother Luis Somoza Debayle, both former Presidents of Nicaragua;  Charles Henri Baker, a Haitian industrialist; musicians Stephen Stills and Desi Arnaz (of "I Love Lucy" fame); the former General Manager of the Toronto Blue Jays, J. P. Ricciardi; the Academy Award-winning actor Lee Marvin.
"Saint Leo University's online programs are held to the same rigorous academic standards as our traditional on-campus programs. So when you earn your degree from Saint Leo University, you enter a competitive job market with a highly regarded degree from a regionally accredited university."
Saint Leo University is accredited by the Southern Association of Colleges and Schools Commission on Colleges to award the associate, bachelor's, master's, specialist, and doctoral degrees.
The School of Business is accredited by the International Assembly for Collegiate Business Education (IACBE)
The MBA Sport Business Program is accredited by the Commission on Sport Management Accreditation (COSMA)
In addition to accreditations Saint Leo University holds membership in the following associations:
American Council on Education (ACE)
Association of Governing Boards of Universities and Colleges
Independent Colleges and Universities of Florida (ICUF)
American Association of Adult and Continuing Education
National Collegiate Honor Society
National Association of Independent Colleges and Universities
University Continuing Education Association (UCEA)
National Association of Institutions for Military Education Services (NAIMES)
National Catholic Education Association
Association of Catholic Colleges and Universities
Online Programs:
Saint Leo University offers a number of highly regarded online degree programs. Saint Leo's most notable online degree programs are the undergraduate bachelor's degree program, which offers 20 different majors in the Schools of Business, the Arts & Sciences and Education & Social Services. In terms of the range and diversity of majors, Saint Leo's offerings are truly impressive. One can earn a Bachelor's degree 100% online in disciplines ranging from Business Administration to Psychology and Sociology to Criminal Justice.
"Whether you're just starting your educational journey or completing your degree, you'll find a Saint Leo online bachelor's program that will transform your dreams into reality."
Saint Leo University's online School of Business, offering both MBA programs as well as other graduate business degrees, including Cybersecurity and Accounting, is widely recognized as one of the top places to earn a graduate degree in business 100% online.
"From cybersecurity and social media analytics to critical incident management and project management, Saint Leo's online master's programs enable students to intensify their knowledge in specialized fields in business, education and social services – fields with high demand for skilled professionals."
Course Presentation and Flexibility:
Saint Leo University has long been a leader in developing and offering innovative and accessible online education. Saint Leo provides its online students ease of access and full transparency about the nature of their courses, requirements and professorial expectations.
When a student enrolls at Saint Leo the students work through a self-paced online tutorial that creates familiarity with Saint Leo's method of online education, library resources, acquiring text books, the online environment and how to interact with instructors and fellow students. Since the Saint Leo's online programs and courses are 100% online, students are able to work at their own pace according to an asynchronous timetable, and yet also through discussion boards interact with instructors and classmates in a manner that simulates a real time classroom experience. Moreover, Saint Leo's online courses use a variety of media that can be tailor made to fit each student's needs and electronic devices and applications. Finally, there are no surprises in a Saint Leo online course, because course requirements are all clearly spelled out in each course's syllabus.
Many of Saint Leo's faculty throughout its schools of business, arts and humanities and the social sciences have  published widely and have received honors and awards from their peers. The following is a sampling of just a few of the achievements of Saint Leo's highly qualified professors:
Awards and Publications

In 2014, Jose Coll was awarded the Administrative Fellowship for 2014-2015 by the American Council on Education (ACE) Fellows Program.
Jennifer Garcia was awarded the 2002 Sue James Memorial Award, Florida Associate for Women in Education.
In 2012, Gianna Russo received the Florida Book Award Bronze Medal for Moonflower.
Stephen Baglione was named School of Business Researcher of the Year (2011, 2010, 2008 second place, 2007, 2006, 2005, 2004, 2003 second place, and 2002).
Marwan Omar is a widely published author in the fields of computer science and cybersecurity (see publications here).

Availability

Professors engage the students in online discussion boards, through email and provide feedback to students in real time.

Teacher/Student Ratios

According to Saint Leo University's website, the student-faculty ratio at the university is 14:1.
School Awards and Recognition:
Saint Leo University is widely recognized as one of the top places to get an online college education. Saint Leo University's achievements and the high quality of their online programs have been noted by several academic and media organizations:
U.S. News & World Report (2016):  Saint Leo's online Bachelor's degree programs ranked in the top 15% of online programs nationwide: 43rd out of 300 online programs evaluated.
U.S. News & World Report (2016): Saint Leo's online non-MBA graduate program in the School of Business was ranked 56th in the nation.
U.S. News & World Report (2011): Saint Leo University was named one of the "Top Universities in the South."
G.I. Jobs (2010): Saint Leo was listed in the magazine  as a "Military Friendly School."
(2011): Finalist for the Distinguished Program in Teacher Education Award presented by the Association of Teacher Educators.
Financial Aid and Scholarships:
Saint Leo University understands higher education is an investment for the future. Saint Leo's Office of Student Financial Services specializes in making sure every student understands the financial aid application process and secures needed aid through grants, loans, scholarships and payment plans. More information about Saint Leo University's financial aid options as well as contact information and the option to directly chat with Saint Leo representatives are available on Saint Leo's tuition and financial aid webpage.
Financial Aid and Types of Scholarships available at Saint Leo University:
Federal Loans and Grants
Federal Pell Grant
Federal Iraq & Afghanistan Service Grant
Federal Supplemental Educational Opportunity Grant
Federal TEACH Grant
Federal Work Study
Federal Direct Loans (subsidized and unsubsidized):
Federal Direct GRAD PLUS (Graduate loans)
Federal Direct PLUS (Parent Loans)
Military Benefits
Non-Title IV financial aid
Military tuition assistance
Employer tuition payments paid to the university
Private scholarships for tuition (paid to the university)
Military Spouse Career Advancement Accts (MYCAA)
Tuition percentage discounts
Military Family Scholarship (must be enrolled in Graduate Business program)
Corporate Assistance
Tuition:
The following table is based upon data from the National Center for Education Statistics combined with information taken from Saint Leo University's Financial Aid webpage. The table compares the range of yearly tuition costs for 31 online schools, colleges and universities similar to Saint Leo University. The data collected shows that the cost of Saint Leo University instruction for full-time undergraduate students is a good deal less than the average yearly cost across comparable institutions. According to the National Center for Education Statistics and Saint Leo University's reported tuition rates, the average cost for full time undergraduate online study with Saint Leo University is $11,820. Full time graduate education is $6,768.
Career Advancement:
Saint Leo University strives to ensure the success of their students during studies and after graduation. In order to give their students the greatest opportunities to realize their career goals, Saint Leo University employs a staff of Career Service experts who help students and graduates to put their best "foot forward when competing for jobs and opportunities." Saint Leo maintains an informative and easily navigable Career Services webpage that lists the many services the university provides its students and graduates.
Saint Leo's vocational and career planning guidance begins in a student's first year of study and continues throughout the duration of a given course of study. Saint Leo's career services webpage explains:
"The Career Services staff at Saint Leo University helps you sharpen the skills and strategies you need to continue advancing your career. Read below to learn how we can provide practical online tools, feedback, assessments, and encouragement at each stage of your career planning."
Examples of Saint Leo Career Services:
Once enrolled the student has 24/7 access to a full range of career services including:
Online modules covering career exploration, interviewing, networking, and resume writing

Career assessment tools
Resources for internship opportunities
Detailed job search information
In-depth graduate and professional school profiles
Free resume builder software
Prior to Graduation
A Saint Leo University Career Counselor helps connect students with specific resources in their chosen field, including:

Resume critique by a Career Counselor familiar with your academic program and chosen career field
Assistance in successful cover letter completion
Identifying job search best practices
Online modules covering networking, interviewing, and resume building
After Graduation
Saint Leo University graduates can tap Career Services resources anytime for:

Developing and executing a career strategy
Resume and cover letter refinement
Job search in your field and location
Interview preparation
Connecting with the global Saint Leo University alumni network
Consideration of additional training or education
Saint Leo University students and graduates can be assured they are receiving excellent career planning guidance and assistance available, which help guarantee the greatest financial return and security on the investment of precious time and money in a Saint Leo University online education.
______________________________
Saint Leo University has been featured on OnlineSchoolsCenter's website in the following: