Individuals who crave an education from a Christian school, yet who cannot attend on-campus classes should seriously consider pursuing a degree in distance education through one of these Top 20 Online Christian Schools in America. This comprehensive index outlines the finest online Christian colleges and universities available and will introduce students to numerous different programs with varying approaches to a Christian-based education.
Each school on this list provides many traditional and specialized degree programs, from certificates to doctorates, and gives students exciting opportunities to expand both their academic and spiritual knowledge. Curricula at these online schools are well-founded in biblical principles and give distance education students challenging and thorough educations that also expand their faith.
These schools are recognized as some of the finest online institutions in the world and have been repeatedly recognized for their achievements by praised accrediting bodies. In any one of these 20 colleges, students will find strong communities of peers and faculty members that will broaden their minds and hearts in the glory of God!
These schools were chosen for several factors that put them ahead of other online institutions—due to the:
nature of the coursework,
degree of thoroughness and complexity of the curriculum,
100% online availability,
sufficient financial aid availability,
and an education that gives students more than just a classroom experience.
In developing this list, OnlineSchoolsCenter.com chose not to list the schools in an ordered way but instead highlighted twenty of the very best institutions, all of which have their own unique strengths.
***
LIBERTY UNIVERSITY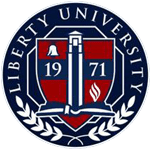 Program Standouts:
Liberty University in Lynchburg, VA, is one of the most highly respected online schools in the country, and the entirety of its curricula is strongly grounded in the mores and tenants of Christianity. Providing students with a fabulous array of over 245, 100% online associate, bachelor's, master's, doctoral, and certificate programs, this school has been enhancing its distance education programs since 1985, and is now "the nation's largest private, nonprofit online university." Student testimonials glowingly report the strong nature of this steadfast online Christian academic community, in which they are virtually immersed throughout their degree program. At this school, professors implement biblical principles into the online classroom, and maintain an active interest in their students' "academic and spiritual growth." Upon exiting their program of choice, graduates are connected with an incredibly vibrant alumni community that provides students with numerous outlets and networking connections through which to seek employment and/or other exciting opportunities. According to their mission statement, "Liberty University develops Christ-centered men and women with the values, knowledge and skills essential to impact the world."
REGENT UNIVERSITY
Regent University in Virginia Beach, VA, is yet another online school that is consistently praised by reputable journalistic resources such as U.S. News and World Report and The Princeton Review as one of finest online schools in the United States. Regent is focused on providing rigorous academics in over 1,400 degree programs, all of which are deeply rooted in a faith-based context. This esteemed school holds fabulous goals for itself and its ultimate vision is to be "the most influential, Christian, transformational university in the world!" RU holds accreditation with seven impressive and nationally renowned organizations and institutions, making its curricula throughout all departments designed according to national industry standards, which is incredibly beneficial for students' future career paths. A small student-to-teacher ratio gives students direct access with professors, and Regent receives yearly recognition for its faculty achievements. Graduates from one of this school's online programs have gone on to receive global and national awards and recognition for their career achievements! Undergoing challenging, Christian-based coursework, and completing exciting opportunities such as study abroad programs, gives RU students major advantages.
FAITH EVANGELICAL COLLEGE & SEMINARY
This online Christian college is highly devoted to the success of its students in academics, their future careers, and their spiritual well-being. Faith Evangelical College & Seminary in Tacoma, WA, offers twelve unique online bachelor's, master's, doctoral, and certificate degree programs, many of which are based in religious studies such as Leadership Ministry, Christian Counseling, and Christian Education. To further assist students in their faith-based and educational goals, FECS offers courses through its Life Coach International Institute that are designed to develop students' "external and internal coaching practices." As it is beautifully worded on their website, "Faith Evangelical College & Seminary exists to glorify God by equipping Christian leaders with a biblical, theological, and practical education empowering them to apply and proclaim the inerrant Word of God for worldwide Christian service." Students gain an outstanding education through thorough and challenging curricula that is highly accredited by state, educational, and Christian organizations. Student reviews praise the Christ-centered nature of the coursework and go on to provide the world with strong Christian leadership.
VITERBO UNIVERSITY
Viterbo University in LaCrosse, WI, is a small, Catholic, Franciscan University sponsored by the Franciscan Sisters of Perpetual Adoration. It operates under the mission to "prepare students for faithful service and ethical leadership." This school provides rich and exciting online programs, many of which are based in the health science disciplines; a few particularly exciting examples include: the online Bachelor of Science in Nursing program, Health Care Management, and Management Information Systems. This highly affordable online Christian school ($250 per credit hour) maintains an 11:1 faculty-to-student ratio, giving students the luxury of small class sizes and close contact with instructors. Viterbo has been educating students for over 125 years and has enhanced and modified its curricula to conform to distance/adult education formats since 1976. Online students have access to exceedingly beneficial 24/7 tutoring, as well as writing assistance programs. Viterbo's supportive online community gives students a comfortable, "on-campus feel," and Catholic values permeate all aspects of the academia.
SAINT LEO UNIVERSITY
Founded in 1889, Saint Leo University in St. Leo, FL, has been enhancing and modifying its academics for over a century, and today provides absolutely superb online degree programs. According to the Saint Leo mission, "Rooted in the 1,500-year-old Benedictine tradition, the university seeks balanced growth in mind, body, and spirit for all members of its community." While it is firmly founded on Christian principles, and the curricula includes rich Catholic principles, Saint Leo University is also an incredibly open and accepting online community that seeks to adhere to individual students beliefs and values, without discrimination. This online school has been named one of the top institutions in the country by U.S. News and World Report and is considered one of the best higher education choices for military personnel and veterans. Saint Leo has perfected its online degree programs to give students just as sharp of a competitive edge as on-campus programs. Each individual online associate's, bachelor's, master's, doctoral, and certificate programs sets students up with highly influential corporate partnerships that are maintained by the university, and alumni have a huge number of networking connections upon which to rely in future job markets and workplaces.
VERITAS BAPTIST COLLEGE
Veritas Baptist College in Fredericksburg, VA, offers eight unique, ministry-based, online certificate, associate's, bachelor's, and master's degree programs, as well as numerous interesting minors. Perhaps the most popular VABC program is the One Year Bible Certificate that is designed to endow students with a shrewd understanding of the Bible and training in Christian service in 32 credit hours. Online students will feel at home in this virtual Christian community that is operated by loving pastors and dutiful faculty members and academic advisors, all of whom are devout Christians that understand the importance of a strong education. Throughout their programs, students view live recordings of coursework on-campus and are in close connection with instructors to have questions and theories answered in a timely manner. This devoted online Christian school is focused on giving students a spiritually broadening, highly accredited, and leadership-centered education, and in doing so produces some of the most faithful and committed ministry leaders in the country.
BENEDICTINE UNIVERSITY
Benedictine University in Lisle, IL, is one of the first schools in America to offer fully online programs and has been perfecting its curricula since 1887. Online Benedictine programs are mainly focused around nursing and the health sciences disciplines, and all coursework is grounded in Catholic principles "that provides a values-centered liberal arts education." This incredibly diverse online academic community supplies an excellent foundation upon which students will intellectually and spiritually grow, and is home to many persons of different ethnicities, religions, and backgrounds. Benedictine is highly focused on providing its students with innovative learning platforms that are designed to immerse individuals in challenging coursework and projects. Distance education students receive personalized and immediate support throughout their academic and future careers from the dedicated Student Support Services Department. This academic institution is consistently named one of the finest schools in the nation by U.S. News & World Report and Forbes and still maintains this high ranking in 2016. Accredited by numerous national and regional organizations, Benedictine University is a fabulous choice for any Christian student seeking higher education.
COLORADO CHRISTIAN UNIVERSITY
This online Christian school in Lakewood, CO, has been providing Christ-centered coursework since its founding in 1917, and since then has been repeatedly ranked as one of the top Christian schools throughout the state and the nation. Today, Colorado Christian University offers more than one hundred highly accredited online associate, bachelor's, master's, and certificate degree programs, as well as numerous minors, that span a vast array of fields and disciplines. Students in this school develop close ties with peers from around the world, as well as with faculty members, and engage in lively academic discussions through state-of-the-art virtual classrooms and forums. According to their wise and encouraging mission statement, this university "cultivates knowledge and love of God in a Christ-centered community of learners and scholars, with an enduring commitment to the integration of exemplary academics, spiritual formation, and engagement with the world." This school holds impressive accreditations from organizations throughout the state and the nation. Students receive supremely professional guidance throughout all CCU programs that prepare them for the fast-paced nature of the job market.
TRINITY INTERNATIONAL UNIVERSITY
Trinity International University in Deerfield, IL, offers four outstanding bachelor's degree programs in Business, Christian Ministries, Criminal Justice, and Psychology. Founded in 1897, this school has been educating students "to engage in God's redemptive work in the world by cultivating academic excellence, Christian Faithfulness, and lifelong learning." Christ-centered coursework gives students invigorating outlets through which to exercise their spirituality, while also gaining an invaluable education. Trinity is devoted to assisting each individual student to carefully form and follow their personal mission and values. Faculty members develop close bonds with their students and act as mentors who provide sound professional guidance throughout their academic (and future) careers. This highly affordable online institution ($350 per credit hour) provides students with excellent services and career development programs and takes an active interest in developing individuals' necessary skill sets and comprehensive self-assessments in various areas.
GRAND CANYON UNIVERSITY
Grand Canyon University in Phoenix, AZ, is a well-known institution that appears on countless lists of the finest online schools in America. Well-known journalistic resources such as U.S. News & World Report, Forbes, and The Princeton Review have celebrated Grand Canyon's online degree programs many times over. Since 2009, this private interdenominational Christian school has invested millions of dollars into improving its academics and student experiences, and now provides state-of-the-art programs that utilize cutting-edge technologies. GCU is an incredibly popular school that educates tens of thousands of distance education students in many different bachelor's, master's, and doctoral programs every year, and all coursework and programs adhere to pertinent, Christ-centered principles. The College of Theology offers several exciting online programs, such as the M.Div. in Youth Ministry, Global Ministry, or Worship Leadership, that are carefully designed to instill in students a strong devotion to Christian leadership. Grand Canyon has also recently revamped its Science, Technology, Engineering, and Math programs, and continues to largely expand on these areas. Online student reviews praise this devoted Christian institution as the college of their dreams, and alumni go on to achieve fabulous steps with the help of GCU's devoted Career Service Department.
LETOURNEAU UNIVERSITY
Originally founded as a Baptist college, today LeTourneau University is an interdenominational and evangelically-Christian school in Longview, TX, that is well-known for providing "excellent professional and technical training and expertise paired with personal, hands-on learning experience [with a]… Christ-centered approach to teaching and learning." LeTourneau offers scores of online bachelor's and master's programs in distinctive disciplines, some of the most popular include Aviation & Aeronautical Science concentrations and Education concentrations. Students at this online school learn from some of the finest faculty in the country, all of whom are hugely successful in their professions and who bring a world of knowledge to the virtual classroom. LETU is endorsed by some of the most rigorous accrediting organizations in America, which gives students an incredibly well-grounded education in every field. The LeTourneau Quality Assurance Department constantly policies and updates degree programs to ensure that students are receiving the finest education possible. Upon exiting their program of choice, graduates go on to land excellent positions of employment, and the school maintains an 86-96% placement rate. This respected institution operates under the belief that no education is complete without a firm understanding of the teachings and meanings of Jesus Christ.
SAINT MARY-OF-THE-WOODS COLLEGE
At Saint Mary-of-the-Woods College in Terre Haute, IN, students delve deeply into coursework that is firmly rooted in Catholic values and traditions, "with an emphasis on the positive power of Providence." This online Christian school offers over twenty-five associate's, bachelor's, and certificate programs, as well as several minor opportunities, in a wide range of areas. This online school welcomes individuals of all religious backgrounds, and every student is required to complete the Woods Core Curriculum that includes various theology courses that encourage the analysis of spirituality and faith in education. Students are given exciting chances to travel abroad on mission trips to countries in five different continents, which helps to encourage strong leadership skills and philanthropic aspirations. SMWC operates at an 8:1 student-to-faculty ratio, giving students ample time to convene with professors, as well as to engage in deep and philosophical correspondence with classmates. Online students have access to all kinds of resources, such as a committed Career Development Center and partnerships with hospitals, clinics, and healthcare industries throughout Indiana. This dedicated online school gives priority to student success throughout their programs and beyond!
OHIO CHRISTIAN UNIVERSITY
This highly accredited Christian school was originally founded in 1948 to educate members of the clergy for the Churches of Christ in Christian Union. Since then, it has expanded its curricula and now offers challenging online associate's and bachelor's degree programs that are carefully designed to be as flexible yet thorough as possible. Coursework at Ohio Christian University is incredibly affordable ($350 per credit hour) and students have copious financial aid opportunities by which to support their academic careers, such as employer tuition reimbursement programs and military benefits. This unique online Christian school has designed programs that are well-suited to adult distance education learners, as well as to high school students through the Trailblazer Academy! Instructors have strong academic and professional credentials and bestow wise experiential and practical knowledge that can be immediately applied to a student's current career or ministry. Classes are designed to support three specific elements of the heart (servitude, character, and leadership) that, through education, lead to the Holy Transformed Heart. In this way, OCU students exit their programs as Christian Servant Leaders and go on to provide the world with strong ministerial and professional guidance.
CALIFORNIA BAPTIST UNIVERSITY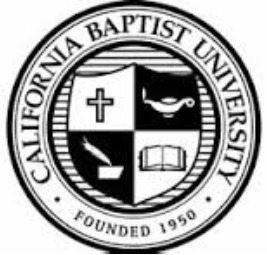 California Baptist University in Riverside, CA, offers over forty Christian-focused and otherwise online bachelor's, master's, and doctoral degree programs. Affiliated with the California Southern Baptist Convention, this online school has recently (2015 & '16) received recognition from several outstanding accrediting and reviewing organizations, and has been ranked #2 for faculty credentials and #20 for programs for veterans! Students at this online school receive an incredibly solid education from experience-rich instructors who are at the top of their fields, and through coursework that has been carefully designed to conform to the many requirements of distance education. Both professional and spiritual themes are interwoven into all CBU classes, allowing students to explore new and exciting areas of their concentrations and faith. Students have access to personal advisors and 24/7 tutoring support, as well as to the resource-rich Career Services Department that assists them in school and in their future careers. CBU created its now vastly successful online programs to meet the needs of a huge population of eager Christian students who could not commit to on-campus courses, and now grants invaluable educations utilizing cutting-edge technologies. Both student and faculty stories communicate the super supportive nature of the California Baptist University community. Graduates go on to land lucrative and thrilling positions of employment in their fields.
IMMACULATA UNIVERSITY
This university in Immaculata, PA, was founded by the Sisters of the Immaculate Heart in 1940, and now provides a wide range of excellent online associate's and bachelor's programs at affordable rates, many of which are in what are recognized as the most fulfilling areas of study in the world, such as health care management, nursing, and business administration. Immaculata University is a "Catholic, comprehensive, coeducational institution… rooted in academic rigor, ethical integrity and Christian core values," and its online programs are well-respected and cherished by students and faculty members. The University's College of LifeLong Learning is responsible for the administration of its online programs, giving massive priority to distance education students, rather than combining online and on-campus courses together in an attempt to cut corners. IU online students are well taken care of and are given access to beneficial resources and advisors, faithful and professional faculty members, and state-of-the-art technologies to assist them throughout their academic careers. Degree programs are offered through various flexible and accelerated formats in order to give students as much control over their educations as possible.
AZUSA PACIFIC UNIVERSITY
Azusa University is ranked one of the best Christian colleges in the nation by U.S. News & World Report and The Princeton Review and offers more than 100 online associate's, bachelor's, master's, and certificate programs in a huge number of areas. This school has been educating Christian men and women since 1899 and today is a leading member of the esteemed Council for Christian Colleges & Universities. Azusa operates under the strong mission to "work together as a team of difference makers to advance the work of God in the world through scholarship, teaching, and building disciples across all levels and delivery systems of collegiate education." Following this mission, the university provides challenging programs to students of all backgrounds that together make a diverse and nurturing virtual academic environment for everyone! The school offers more than 40 national and international study abroad opportunities in exotic regions, that are hugely beneficial in the expansion of one's spiritual and academic consciousness. Faculty members are all devout Christians who are masters in their fields, and nearly all of whom have doctorate degrees. Learning under such a well-versed faculty gives students experiential knowledge from pillars of educational wisdom.
UNIVERSITY OF ST. FRANCIS
The University of St. Francis in Joliet, IL, is proudly one of the largest providers of online education in Illinois, and the nation, for the past 15 years. U.S. News & World Report, The Princeton Review, and Colleges of Distinction, as well as other national and regional education reviewing and accrediting organizations, have named this online Catholic university one of the finest in the country. The faculty and administration deliver a practical, real-world curriculum taught by expert individuals who bring years of experiential knowledge to the online classroom. Students have opportunities to take advantage of exciting and well-funded resources through which to expand their educations, like in the Center of Innovation and leadership which fosters project planning, innovation, and creativity. Counselors and instructors are always within reach to provide students with any and all assistance they need throughout their degree programs. Upon exiting this prominent online university, students are well-prepared to make a significant impact within their workplace, ministry, and community.
SAINT JOSEPH'S COLLEGE
This small, Christian, liberal arts college in Standish, ME, is an incredibly supportive and nurturing online harbor for distance education students. The virtual and physical Saint Joseph's University campuses attract persons of all ethnicities and backgrounds that all contribute to the warm and affectionate nature of the school population. Founded by the Sisters of Mercy, this Roman Catholic college has been educating students since 1831, and with nearly 200 years of experience in education, the online SJU bachelor's, master's, post-graduate, and certificate degree programs are now perfected and concise. Areas of study include numerous Theology majors in distinctive concentrations, such as Catholic Catechesis and Pastoral Ministry to Black Catholics. Students have extensive flexibility options for the pace of their coursework, depending on whether they would prefer an accelerated or standard track. Respected instructors deliver rewarding coursework in many different areas under the guiding tenants of faith, excellence, integrity, and compassion. Open to men and women of all faiths, this welcoming college is perfect for students of all ages, from young-adults to adult learners.
DALLAS BAPTIST UNIVERSITY
Dallas Baptist University in Texas has over 60 noteworthy associate's, bachelor's, master's, and certificate programs, many of which are focused in ministerial studies. The DBU mission is forthright, and guides an institution that seeks "to produce servant leaders who have the ability to integrate faith and learning through their respective callings." This strong educational environment bolsters students' professional and spiritual practices and is supported by faculty members who bring a world of knowledge to the online classroom, and nearly all of whom have doctoral degrees in their field of study. Upon exiting their individual DBU programs, students have developed well-founded critical problem-solving skills, and the ability to meaningfully question, analyze, and examine their worldview. This prominent Christian university has been educating students for more than a century and has since then created an immersive environment with rich traditions and a powerful school culture. A small student-to-teacher ratio allows students to connect more closely with their instructors and classmates to further expand on this culture of excellence and integrity. The school maintains a strong student success rate of 92% and provides excellent course materials as a pioneer in Christian online education.